Who is this Pony-Tailed Hero?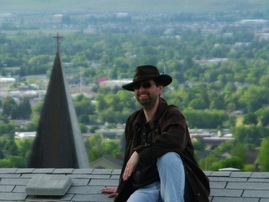 Luke takes his usual morning respite on the roof.
The Apologetic Professor is Dr. Luke Conway, an internationally-known researcher in the areas of Social and Political Psychology.
(And yes, that is him in the pictures, on the roof of his own house in the South Hills).
His research focuses on cognitive complexity and culture.
Luke (who professionally is called
Lucian Gideon Conway III
because he thinks it is a cooler name – kind of "French King" meets "Old Testament"), is a tenured Associate Professor of Psychology at the University of Montana.
Luke's scientific work on the complexity of political figures has been featured in popular media outlets such as the
Washington Post
,
USA Today,
Search Magazine, and Entertainment and Technology Magazine
. Luke's also been interviewed about his research on
NPR
and
BBC Radio.
Further, Luke's scientific work has appeared in some of the most influential academic journals in the world, including
all
of the top five most highly-cited journals in the field of Social Psychology, the most influential journals in the fields of both Political Psychology and Cross-Cultural Psychology, and the most widely circulated academic journal in the entire science of Psychology
(American Psychologist
)
.
He has also given invited talks at The University of Michigan-Ann Arbor, Purdue University, the Midwestern Psychological Association, and the Wilderness Society, among others.
In addition, Luke was recently chosen by the Department of Homeland Security to head a prestigious team of the top researchers in the world to study the linguistic patterns of radical group leaders.
If you want more information on Luke's scientific work, links to news articles and academic papers, and his CV, go to this link for his lab's web page:
http://psychweb.psy.umt.edu/conway/
Personally, Luke is universally recognized as an exceptionally boring person.
He is singularly blessed with the best wife on the planet, Kathrene (who, despite much pleading, refuses to be called "The Apologetic Professorette") and the most amazing daughter in human history, Autumn.
He loves his two girls, Griz sports (he and Kathrene sit in the North End Zone for every home football game), the city of Missoula, UM, hiking in the mountains, and picnics with his family by Rattlesnake Creek.
On Sundays, you will find him most weeks in the pews of
Missoula Alliance Church
in Missoula, Montana, where is he a proud member.
He also apparently spends a lot of time on his roof dressed like Billy Ray Cyrus (immediately post-Achy-Breaky). That, and he is on a journey of self-discovery whereby he will realize, with deep existential angst, that he really loves parenthetical notes (and cheesy bagels -- that was huge).

He would also like to note that all the pictures on this cite were taken by his incredible mother-in-law, Carolyn Centilli.
---