Problems with Christian Apologetics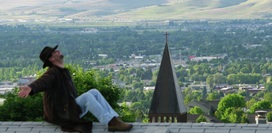 Is it just me, or is that Billy Ray Cyrus?
A Direct Link to the Apologetic Professor's Blog and Reader Comments is
here
.
I want everyone to repeat after me: "I don't know."
Go ahead, say it – it's quite liberating!
It's kind of the same feeling as shouting "I admit that I believe Michael Bolton is truly ugly," but without the popular backlash.
The
Apologetic Professor
is incredibly fond of that phrase (meaning "I don't know;" although I'm fond of the one about Michael Bolton, too).
I cannot figure out for the life of me why Christians feel the need to answer
every single
question about the faith. No one holds anything else to this kind of standard in any other aspect of life.
When quantum physicists tell us they cannot explain how big forces and small forces fit together, we do not say "well, I guess all of quantum physics is bosh.
Screw gravity!"
When astronomers say they cannot explain how a black hole works, we do not say "I suppose there is no such thing as a supernova after all."
If your friend cannot tell you how to navigate around New York City, does it follow from that that she cannot tell you how to get to her own house?
The point is obvious: Not knowing things does not (necessarily) invalidate the things one
does
know.
Well, Christianity does not claim to answer every question.
In fact, in Christianity we are repeatedly taught to question and doubt the limits of our own knowledge.
Yes, to question.
To doubt.
Indeed, it may surprise some folks to realize that it borders on blasphemy in Christianity to think we have all the answers; by definition, only One being in the universe can have
all
the answers.
By a curious coincidence, God did not decide to put all the answers to everything in my head.
Bad break!
Oftentimes, I think when someone asks us a question like "why does John say there were two angels at the tomb when Mark says one angel?"
I wonder why Christians spend a lot of unnecessary time trying to prove that 2 = 1.
(That is kind of like the equivalent of trying to make up an answer about how to get to Wall Street when we don't know how to get there.)
The proper answer isn't to try and prove that 2 = 1; the proper answer is "I have no idea; but who cares?
Let me tell you about what we
do
know.
The accounts about Jesus do not disagree on anything
important
.
Let's talk about those."
This leads us into a related problem: The problem of "massaging the facts." Everyone does it. But the
Apologetic Professor
believes strongly that it hurts, and not helps, our cause if we skew facts or arguments in our favor.
Rather, we take St. Thomas Aquinas' view that it is best to be fair – to present the opposing arguments in their full and total glory.
That is why St. Thomas Aquinas' arguments for his
opponents'
positions are often considered the best arguments ever produced for that position; he believed in presenting the best foot for the opposition first.
We do, too.
As a result, I take historical and factual accuracy seriously.
I am not afraid of the Truth.
If God wanted a universe where all the facts pointed one way, He would have made one.
He didn't. He left room for doubt…on purpose.
Thus, the
Apologetic Professor
makes the following promise: The stuff we discuss here will not intentionally distort history or facts or science.
We will present the facts as we see them in an objective manner, whether they seem on the surface to help or hurt our case.
That isn't to say that errors won't occur – of course they will.
History and science are both glorious but imperfect enterprises, and though I am a scientist, I am not a historian.
(As a rule, I distrust history because I distrust people.
I believe what I see, and I cannot directly see history. As a result, I base very few arguments directly on history itself).
So if you find errors, let us know and we will correct them (provided you can give appropriate documentation for the change).
---