The Apologetic Professor: A University Professor Defends his Faith.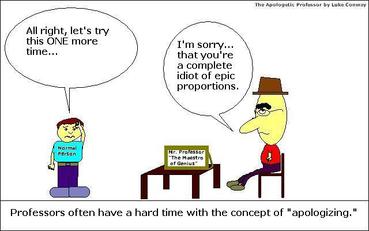 A Direct Link to the Apologetic Professor's Blog and Reader Comments is
here
.
The Apologetic Professor is now on Facebook! To follow us on Facebook, go
here
and then "like" us!
If you are looking for a video of Luke's lecture titled "
Christianity is Unintellectual and Other Myths about the Christian Faith
," click
here
.
If you came to this website hoping to find a professor who was actually sorry for being a pompous jerk…this isn't that kind of "apologetic."

I'm deeply sorry.

But please do let me know if you ever find that sort of professor (unlikely as that would seem).

We could actually go into business together: And now, right next to the 56 foot iguana and the man with six arms, it's something even MORE amazing – a professor who will say he's sorry for something!

This website is instead devoted to the other, lesser-known (and admittedly far less important) kind of apologetics.

Here's a definition of the kind I mean:



Apologetics: Reasoned arguments or writings in justification of something, typically a theory or religious doctrine.



In that spirit, the Apologetic Professor is a tenured Psychology Professor at the University of Montana who also happens to be a deeply committed Christian.

And he wants to give his reasoned arguments in justification of his religious beliefs, which he thinks comprise the most reasonable and intellectually defensible belief system on the planet.

They let you do that sort of thing on the internet.

Ain't freedom great?

It turns out, that in a fit of irony, the Apologetic Professor is actually quite unapologetically apologetic, meaning that he's not remotely ashamed of defending his Christian beliefs.

On the bright side, he is deeply ashamed of the fact that he once threw a piece of pizza at a woman in the mall.

So there's that.

(If you are that woman, he really is sorry about that).

It also turns out that, for reasons unexplained by science, he likes talking about himself in the third person.

But he digresses.

This site is primarily devoted to University of Montana students.

However, anyone is welcome to peruse it.

Some of the issues may be specific to UM, but most of what we'll talk about here involves far more general issues of faith and reason and belief.

The website is laid out in the following way: On the left, you can navigate to some pages that contain a basic overview of who I am, what I believe, why this website exists, and what its general approach is.

It also contains a couple of broad categories that I thought worth sketching out at a very general level.



However, most of the action on the site happens on the blog, which you can get to by clicking here or by links on every page.

On the articles page, you can read articles and comment on them (or comment on them without reading them; hey, it's the new American pastime!) and sign up to receive each new article via e-mail.

You can also possibly gain superpowers via radioactive spider bites and have $1,000,000 in cash dropped onto you from Heaven.*

**

* Results dependent on miracles and/or surprising scientific phenomenon.

Actual outcomes may vary.

For best results, we suggest hanging out near a nuclear plant and looking for spiders while you read the articles. (Or try the basement of the Skaggs Building -- there seems to be a lot of nuclear stuff down there).



** In the unlikely event that you are hit in the head with some unexpected cash from the sky, the Apologetic Professor is not responsible for the increasingly common suitcase-full-of-cash-to-the-head injury. All we can say is: Duck!

(Actually, ducking won't help if something is dropped onto your head from above; that was just a test to see if you were a thinking or unthinking reader).
---